Zürich is pretty well connected to the rest of Switzerland and, as such, there are plenty of options for day trips and excurions around the country. Here I've included the five best.
Rapperswil and Einsiedeln - At the opposite end of Lake Zurich, Rapperswil boasts a historic lake-side old town dating from the 13th Century. In summer, take a cruise from Bürkliplatz past the vineyards of Stafa to the Rapperswil docks in the old town. After lunch on the lake front, Einsiedeln is a short train ride away and home to huge Baroque monastry and major point of pilgramage.

Stein am Rhein - On the banks of the Rhine river, Stein-am-Rhein is one of the most photogenic old cities in Switzerland Many of the medieval houses are frescoed and the city gates have been preserved.

Lucerne - One of Switzerland's most touristed, and most beautiful, cities. Under an hour from Zürich on the train, Lucerne Old Town sits beautifully across the River Ruess. With the Baroque Jesuit Church on one bank and the bulk of the Old Town, with frescoed buildings, and walkable city ramparts on the other don't overlook the the Lion Monument. With a few spare hours, take the Golden Round trip to the top of Mount Pilatus.

Basel - Artistic and cultural capital of Switzerland, Basel's museums are well renowned not only for their impressive collections but also the regular temporary exhibitions. The Old Town is a pedestrians paradise and every Saturday there's a fruit and veg market directly in front of the impressive-red Rathaus. Don't miss the Romanesque Münster (Cathedral.) Basler Fasnacht is the most important cultural event on the annual calendar.

Bremgarten - Like Lucerne Bremgarten straddles the Ruess River. The Old Town is a joy to walk around - while the water front lacks much of the pretetiousness which can clutter Lake Zurich at times. Regular markets through the year are usually accompanied by entertainments and a fun fayre - which can be great to keep the kiddy-winks entertained.
Related Posts
About Mark Sukhija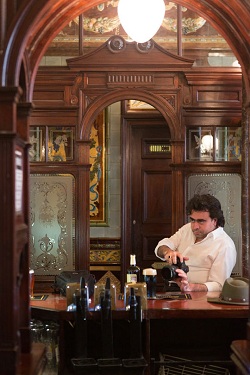 Mark Sukhija is a travel and wine blogger, photographer, tourism researcher, hat-touting, white-shirt-wearing, New Zealand fantatic and eclipse chaser. Aside from at least annual visits to New Zealand, Mark has seen eclipses in South Australia (2002), Libya (2006), China (2009) and Queensland (2012). After twelve years in Switzerland, Mark moved back to London in 2012. You can follow Mark on Twitter or Facebook