Zürich - a history of Fraumünster
Tweet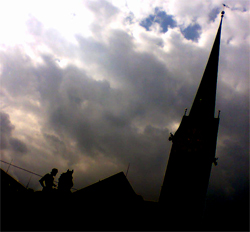 The slender spire of Fraumunster dominates Münsterplatz. The Fraumunster was founded in 853 by King Louis the German. The Convent of Fraumunster primarily inhabited by members of the south German aristocracy, enjoyed rights to mint coins in Zurich until the 13th Century.
Aside from the Romanesque Choir and steep arching of the transept, the most notable features of the church are the windows. The windows in the northern transept are by Alberto Giacometti (1945) who also did the windows in Grossmunster on the opposite side of the Limmat. A five part series of windows in the choir where installed by Marc Chagall in 1970 and a further rose window by Marc Chagall was installed in the south transept in 1978.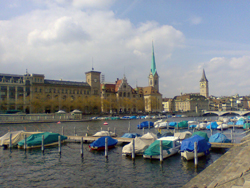 Following the extension of the 18th Century extension of the north steeple and the dismantling of the south steeple the nave was rebuilt in 1911. Fraumunster is also home to the largest organ in Canton Zurich with 5,793 pipes.
In the cloister adjoining the church, frescoes by Paul Bodmer commemorate the churches founding.
---