Rapperswil - a brief history
By Mark Sukhija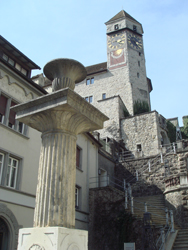 Founded in 1229, Rapperswil has become known as Switzerland's City of Roses on account of it's three rose gardens which comprise a total of 15,000 rose bushes of 600 different varieties.
Legend has it that Rapperswil was founded by a Duke of Altendorf. Having crossed the lake to come hunting, the Dukes dogs quickly picked up the scent of a doe. Having seen the fawns, the Duchess pleaded with the Duke to call off the hunt. The hunt off, the Duke and Duchess took lunch on top of the hill. The is said to have come to the Duchess and put her head on the Duchess' lap as a sign of thanks. The Duke took this as a sign from God and decided to build a castle on this place. A deer park stands has stood within the castle grounds since its founding in 1871.
The story of the founding of Rapperswil is depicted in a painting on the front of a building in Rapperswil's Hauptplatz.
The prominent castle houses a Polish Museum. The Castle housed the Polish National Museum from 1870 until 1927. Since 1975, the top floor of the castle has accomodated an exhibition documenting Polish contribution to western civilization.
Rapperswil is easily accesible from Zürich by train and, during the summer months, a very pleasant boat ride taking around 90 minutes.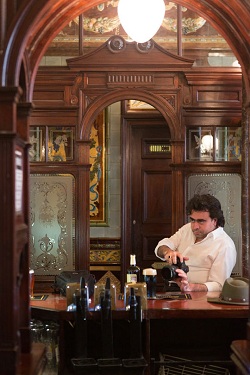 Mark Sukhija is a travel and wine blogger, photographer, tourism researcher, hat-touting, white-shirt-wearing, New Zealand fantatic and eclipse chaser. Aside from at least annual visits to New Zealand, Mark has seen eclipses in South Australia (2002), Libya (2006), China (2009) and Queensland (2012). After twelve years in Switzerland, Mark moved back to London in 2012. You can follow Mark on Twitter or Facebook