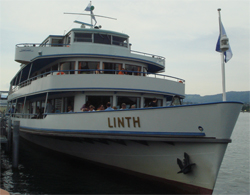 The Lake Zürich Navigation Company (Zürichsee Schifffahrtgesellschafft (ZSG)) began running boat tours on Lake Zürich with a steamboat called Minerva. Now, with the fleet expanded to 17 ships including three flat bottoms plying the Limmat River and a pair of steamships, the Boat Company runs a variety of cruises on Lake Zürich - although the service is substantially reduced during the winter months.
One of the more enjoyable (well one of my favorite) trips is the "Grosse Rundfahrten" (the Big Round Trip) which takes a leisurely two hours to bring you to the historic town of Rapperswil at the other end of the Lake. If you've got an afternoon to spare in Zürich , it's a great trip to take lunch on and then explore Rapperswil
Several shorter cruises, including breakfast, lunch tango-cruises, BBQ, Jazz, Salsa, Oldies, Summer-brunch and Seenachstfest cruises pretty much ensure that any taste is catered for. Enquire at the ticket office directly at Bürkliplatz on the Lakefront or at the tourist information office in the main train station.
Zürich itself in, in actuality, at the end of Lake Zürich - the Limmat drains the water from the lake. The Linth Canal, which runs from Canton Glarus through Walensee and Schmerikon flows into Lake Zürich at the other end. The Limmatboot, flat-bottomed boats, operate on the Limmat river itself as far as the Landesmuseum (State Museum.)
Quick facts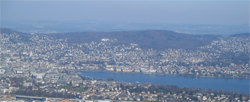 Zürich / Rapperswil : 28.50 km
Zürich / Schmerikon: 39.0 km
Surface area: 88.66 km2
Volume of water in Lake: 4.00 km3
Widest point: Between Stäfa and Richterswil 3.85 km
Deepest point: between Herrliberg and Oberrieden: 143.00 meters
Average water level: 405.95 m above sea level