AKA?

Strasbourg Christmas Market is also known as Christkindelsmärik in the local Alsacian dialect and as Marché de Noël in French.

Getting there

The journey from Zürich took 3 hours including a change of trains in Basel. We crossed in French territory at Basel train station.

Regular trains arrive from around Alsace and the rest of France and Germany at the main train station. Visit the SNCF website for detailed scheduled information.

Walking from Strasbourg main train station (Gare Central) to the Cathedral took us around 10 / 15 minutes.

How much?

The train ticket from Zürich cost 67CHF for a same day return with the Swiss Half Fare card.

Other train fares are available from the SNCF website.

When?

The 2008 Christmas market runs from the 29th of November to the 31st of December.

The market takes place annually. Dates may vary so check the official website.

Since?

The Strasbourg Christmas Market has been going since 1570.
The Strasbourg Christmas market is dotted around various squares in town. The Google map below shows where they were in 2008. Amonsgt the most picturesque are those at the Cathedral and in Petite France.
View Larger Map
Map
About Mark Sukhija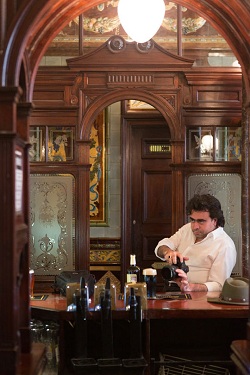 Mark Sukhija is a travel and wine blogger, photographer, tourism researcher, hat-touting, white-shirt-wearing, New Zealand fantatic and eclipse chaser. Aside from at least annual visits to New Zealand, Mark has seen eclipses in South Australia (2002), Libya (2006), China (2009) and Queensland (2012). After twelve years in Switzerland, Mark moved back to London in 2012. You can follow Mark on Twitter or Facebook