There are several hotels in Neuchâtel of varying prices to suit all budgets. To date, I've only stayed in the following two - but would like to try the Hotel Palafitte next time round.
Please mention MarksTravelNotes.com when contacting these fine establishments. I have stayed at all these hotels.
Recommended hotels
Hotel Beau Rivage (1, Esplanade du Mont-Blanc, CH-2000 Neuchatel) - We've stayed at the Hotel Beau Rivage a few times now and have been consistently impressed. Service has always been 5-star, bathrooms are excellent, rooms are spacious and rivals the Hotel Splendide Royale in Lugano in the Comfy Carpet Stakes. Good restauant with a decent selection of local wines - which is always a plus. Location can't be bettered - nor can the lakeside rooms. On our last visit - we even had a kickbike in the room to use during our visit.
Other hotels - caveat emptor
Hotel Beaulac (Esplanade Leopold-Robert 2, CH-2000 Neuchatel) - We stayed at the Hotel Beaulac for our visit to the Fêtes des Vendanges in 2009. This was our first and last stay. Basically, I have no complaints re the service was OK if uninspiringly mediocre although the location is only bettered by the Hotel Beau Rivage . The bathroom, on the other hand, is a problem - it contains only a shower, i.e. no bath, and no room to swing a cat in. Which, at 280 CHF (plus taxes) for a double room, is shockingly poor value - I've stayed in several hotels in Switzerland over 100 CHF per night cheaper with better bathroom facilities than this.
Map
About Mark Sukhija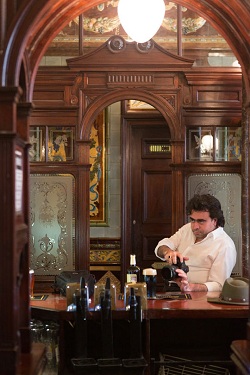 Mark Sukhija is a travel and wine blogger, photographer, tourism researcher, hat-touting, white-shirt-wearing, New Zealand fantatic and eclipse chaser. Aside from at least annual visits to New Zealand, Mark has seen eclipses in South Australia (2002), Libya (2006), China (2009) and Queensland (2012). After twelve years in Switzerland, Mark moved back to London in 2012. You can follow Mark on Twitter or Facebook