Yes. Switzerland does produce wine. Major producing area are the regions of Vaud, Valais, Neuchâtel , the Zürich region and Eastern Switzerland and Ticino. Neuchâtel is well known for it's white wines while Ticino is best known for it's Merlot.
Switzerland produces a variety of both red and white wines. Much Swiss Wine is drunk locally to where it is produced or elsewhere in Switzerland. Consequently very little is exported.
Fendant (or Chasselas) and Sylvaner are the two major wine products of Canton Valais. Merlot comprises around 80% of the wine produced in Canton Ticino.
Canton Zürich is also well cultivated. Approximately 60% of the vines are dedicated to red wine with the remain 40% to white wine. Pinot Noir and Müller-Thurgau are both widely cultivated.
Overview of wines and growing areas
White wine
Variety
Swiss Names
Region grown
Chasselas
Chasselas, Fendant, Gutedel
Valais, Vaud, Geneva , Three Lakes Region
Müller-Thurgau
Riesling X Sylvaner
Ostschweiz, also in Geneva
Sylvaner
Sylvaner, Johannisberg, Rhin, Gros Rhin, Grüner Silvaner
Geneva , but also in parts of Valais
Red wine
Variety
Swiss Names
Region grown
Pinot Noir
Pinot Noir, Blauburgunder, Clevner, Spätburgunder
Valais, Three Lakes Region and Ostschweiz
Gamay
Gamay
Vaud, Valais
Merlot
Merlot
Predominantly Ticino but sparse cultivation in Vaud, Valais and Geneva
Further information on Swiss wines
The following on-line resource should provide you with ample additional information.
Map
About Mark Sukhija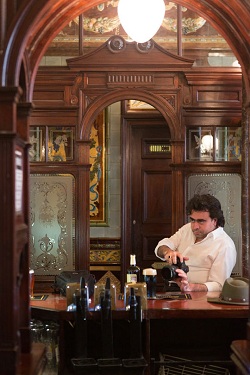 Mark Sukhija is a travel and wine blogger, photographer, tourism researcher, hat-touting, white-shirt-wearing, New Zealand fantatic and eclipse chaser. Aside from at least annual visits to New Zealand, Mark has seen eclipses in South Australia (2002), Libya (2006), China (2009) and Queensland (2012). After twelve years in Switzerland, Mark moved back to London in 2012. You can follow Mark on Twitter or Facebook