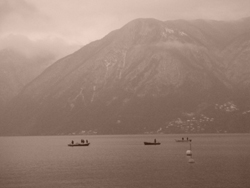 This morning, the mists had settled over Lake Lugano and the the mountain tops - which was both atmospheric, chilling and a bit of a spoiler of the view from the lake view room at our hotel in Lugano . After an excellent breakfast at the Hotel Splendide, we headed out to have a quick look around.
Sadly, the weather wasn't playing ball today and the lake had misted up overnight. None-the-less we took the five-minute walk along the promenade of the lake and stopped in at the Chiesa di Santa Maria degli Angioli on Piazza Luini. Structurally Gothic in style, the Chiesa di Santa Maria degli Angioli is home to what, in my opinion, is a masterpiece of Renaissance art. The Church exterior is plain enough but don't let that fool you - the interior is an absolute artistic and religous delight. The star "attraction" - if an object of religous importance can be described as such - the the fresco by Bernado Luini which depicts the Passion of Christ and the Crucifixion.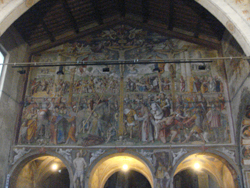 After the Chiesa di Santa Maria degli Angioli, we headed up the dog-leg lane in the old town of Lugano and up the hill to the Cathedral. The Cathedral of San Lorenzo sits above the city itself. The noted Renaissance-style façade overlooks the city and lake of Lugano . The interior shows examples of Romanesque, Gothic and Renaissance periods and much of the interior decoration remains. The chapels on either side of the Cathedral are beautiful and worth spending a little time looking around. The cielings of the chapels are quite fine.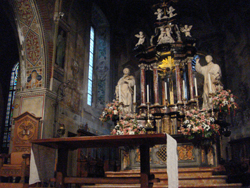 This evening we headed to Lugano-Paradiso - a short walk along the promenade from our hotel for dinner. Being an extended holiday weekend, many places were closed. We did, however, stumble upon the Restaurant Al Faro (riva Paradiso 36) which a well known seafood restaurant run by a former surgeon. We ate in the Piano Lounge, which is somewhat less formal than the adjoining dining room. The four of use where all delighted with our meals, the Tuna with mustard and veggies (my dish) was very enjoyable although, as a matter of personal taster, I prefer a stronger mustard. The cream of Violet Potato, which I did sample, excellent. Sadly, I didn't get a go at the Bison but the Pork in a Barolo sauce was pretty good too. Personally, I can recommend any of these dishes and the the Al Faro itself.