23rd August 2008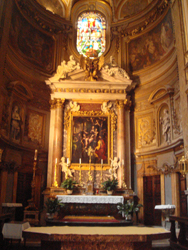 On Wednesday, we decided to take advantage of one of the Swiss International Airlines advertised cheap flights to Rome from Zürich.
After a good nights sleep in the Hotel Raphael, we headed into town. We usually select the Hotel Raphael for its handy location a matter of meters from the famous Piazza Navona and we can walk everywhere from there.
We had planned to head to the Domus Aurea today - but found the place closed during the weekend. As it turns out - it's only open Tuesday to Friday! Which is a real shame. I've been meaning to revisit the Golden House of the notorius Roman Emporer Nero for some time. Still we had an oppurtunity to visit the Trajan Baths which are a mere shadow of their former selves and of the nearby Baths of Caracalla, which are much better preserved.
We headed to the Basilica di San Pietro in Vincoli (Basilica of Saint Peter in Chains) which was close by.
The Basilica Eudoxiana was originally built in the 5th century to house the chains which bound Saint Peter when he was imprisoned in Jerusalem. Legend has it that when the Pope Leo I compared these these chains (which were gifted to him by Empress Eudoxia - wife of Emperor Valentinia III) which the chains of St. Peter's final imprisonment in the Mamertine Prison in Rome, the two chains miraculously fused together. The fused chains are now kept in a reliquary beneath the main alter in Basilica.
Basilica San Pietro in Vincoli is also famous for housing Michelangelo's Moses - originally intended for the 47-statue, free-standing funerery monument of Pope Julius II - but now stands here, beautifully set in the Church of the della Rovere family - the family from which Pope Julius came. Completed in 1515, Moses, flanked by Rachel and Leah the wives of Jacob, unexpectedly sports a pair of horns. (Apparently, this is a result of a translation error by Saint Jerome - who translated the bible from Greek into the Vulgate. While translating the Hebrew form of Exodus, however, a word was mistakenly translated as "horns" rather than "rays of the skin of his face." I'm told the Hebrew word "keren" can mean "radiated" in the sense of light or "grew horns.")