We've made several trips to Italy over the years and, as a result, eaten in some great places and some utter tourist traps. These are a small selection of places we've eaten which are worth repeat visits and, therefore, worthy of recommendation.
Rome
Ara Pacis - La Capricciosa (Largo dei Lombardi 8, 00186 Rome) - We usually pop into La Capricciosa on our visits to Rome and not without cause. Service has always been excellent and very hospitable. Food has always been super to splendid (especially the signature pizza La Capricciosa) and there's an enjoyable selection of wine - which one expects from any eatery worth its salt in Italy. Being just off Via del Corso, one would normally expect more tourists at such an establishment and, while there is always a quota, many visitors are Romans. Which is a good sign.

Hotel Raphael Rooftop Terrace (Hotel Raphael, Largo Febo 2, Rome) - The rooftop terrace at the Hotel Raphael benefits from an excellent kitchen and rooftop views over the city. Usually open during the summer months in fine weather, view of St Peters Basilica, Castel Sant'Angello, the roof tops of Piazza Navona and the Pantheon. Which is an excellent way to enjoy a well made meal or simply a glass of wine.

Restaurant La Veranda (Hotel Columbus, Via della Conciliazione 33, 00193 Roma) - We've taken luncheon at Restaurant La Veranda in the Hotel Columbus a few times now and have always been pleased with their lunch menu - which comes in at 35EUR for four courses, a glass of wine, water and breads. Food quality has always been excellent and portions are invariably on the more-than-ample side. Service is pretty good and unhurried - which is nice. The spacious dining room also boasts an excellently decorated cieling or, in warmer times, enjoy the garden.
Florence
Osteria Caffe Italiano (Via Isola delle Stinch 11/13r, 50122 Florence) was one of the best discoveries of our trips to Florence An admirable wine list, including a selection of open wines available by the glass, outshines the food menu in length only. Either enjoy the fine weather on outdoor seating or the spacious, moderne interior. Take either the Coniglio in Tegame and Galatina di Faraoma or the Pan-fried rabbit as main dishes.
Venice
Caffe Centrale Restaurant Bar (San Marco, Piscina Frezzeria 1659/B, 30124 Venice) - On several trips to Venice, we eaten at all sorts of assorted places down all sorts of back streets and alley ways. Caffe Centrale Restaurant Bar is the only one I've bothered to keep the name and address of. Uber-modern with an excellent menu and fine wine list combined with great service make this place worth of a recommendation.
Map
About Mark Sukhija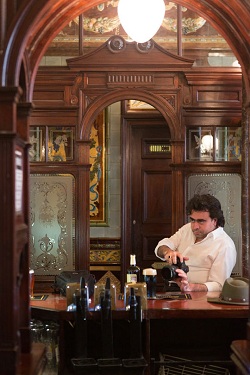 Mark Sukhija is a travel and wine blogger, photographer, tourism researcher, hat-touting, white-shirt-wearing, New Zealand fantatic and eclipse chaser. Aside from at least annual visits to New Zealand, Mark has seen eclipses in South Australia (2002), Libya (2006), China (2009) and Queensland (2012). After twelve years in Switzerland, Mark moved back to London in 2012. You can follow Mark on Twitter or Facebook