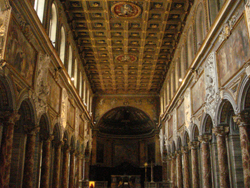 Under the Emperor Constantine, churches were established on the outskirts of the city or outside the city walls. The church began to assert it's authority more openly from the IVth Century onwards with funds often provided from the Popes themselves.
In 336, Pope Marco opened the Chiesa di San Marco and dedicated it to the Saint Mark and incorporated the church into part of a "Domus" which may have also belonged to his family.
Pope Hadrian 1st restored the building in 792. Hadrian I was descended from an important Roman family which resided in a Palace next to the church - close to where the Palazzo Venezia is today. As part of a construction programme, Hadrian I restored the aquaducts and older sacnturies. The Church of St Mark was included in this programme.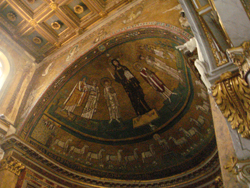 Under Pope Gregory IVth the Church was rebuilt in the Caroligian style (a style also used in the Church of St Cecilia, of St Prassede and St Maria in Domenica) and features a three aisle nave, a portico, an apse ending, transepts and undecorated columns seperating the naves.