These are a couple of hotels I can recommend around Europe which don't really fit into any other section of the site.
Specific recommendations are made for Austria, Belgium, Italy (esp Rome), Switzerland and Spain.
Copenhagen

Hotel Kong Arthur (Norre Sogade 11, DK-1370 Copenhagen K, Denmark) - Charming hotel close to the public transport Hotel Kong Arthur is a short (10-minute) walk in to central Copenhagen The Hotel Kong Arthur does an excellent breakfast spread - both in breadth and quality.

Prague

K+K Hotel Fenix (Ve Smeckach 30, 110 00 Prague 1) - Scores highly on the location ratings, being meters from the Wenscelas Square - so many major sights are within walking distance. Hotel is modern and well run with helpful staff. Wireless internet throughout. Several "cabaret" clubs are along the same street but they're generally no bother if you're not interested.

Stockholm

Hotel Sven Vintappare (Sven Vintappares Grand 3, 117 27 Stockholm) - Dating from the 17th Century, the Hotel Sven Vintappare is certainly one of the oldest hotels I've ever stayed in. And one of the most charming. All the rooms are spacious, comfortable and decorated in Louis XV style. In the centre of "Gamla Stan" - Stockholms Old Town - the location is impossible to improve as the cobbledy streets are, literally, on your doorstep and many of the museums and the Royal Palace are right up the road. Did I mention its close to the local train system too? The whole hotel is up a spiral stair case which adds to the charm but is totally inappropriate for disabled access. Breakfast selection is small but excellent and charmingly set in the coffee shop on the ground floor. I have no hestitation in recommending the Hotel Sven Vintappare.
Map
About Mark Sukhija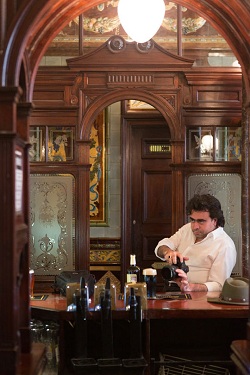 Mark Sukhija is a travel and wine blogger, photographer, tourism researcher, hat-touting, white-shirt-wearing, New Zealand fantatic and eclipse chaser. Aside from at least annual visits to New Zealand, Mark has seen eclipses in South Australia (2002), Libya (2006), China (2009) and Queensland (2012). After twelve years in Switzerland, Mark moved back to London in 2012. You can follow Mark on Twitter or Facebook