19th April 2009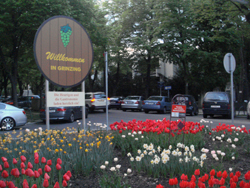 This evening, after a hard days sight-seeing in Melk, we headed to the Vienesse suburb of Grinzing which is well known for its numerous Heurigens.
We headed to the Alter Bach-Hengle (at Sandgasse 7-9) which was, overall, an enjoyable experience. We love the idea of heuriger. They produce their own wine and offer it for sale in their own premises. And thats a good thing.
I'm really not conviced that the experience we had at the the Alter Bach-Hengle was an authentic Heuriger experience. Perhaps it was the several groups of Japanese tourists? Perhaps it was the three coaches parked up outside shortly after we arrived? Perhaps it was the absence of locals beyond the staffing? Or it could have been the traditional Austrian musical quartet churning out such Austrian classics as "The Chicken Song"? Somehow I got the feeling that this was the Heurgier equivalent to the "Leicester Square Experience" - just without under-26 Ozzies serving in London pubs as round-the-world-travellers on favourable work permits.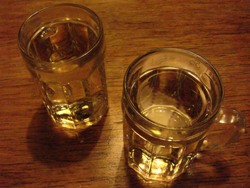 All that said, however, we did enjoy our evening. We enjoyed the wine. And yes - we did partake of the Heurigers own (young) wine and a glass of their Altwein (Old Wine) which is over the statutory one year age limit. A selection of other Austrian wine - including some medal winning wines - were also available. Some of which were genuinly excellent and predominantly from the Lower Austria region white wines. While both the Heuriger wine and the Altwein were both enjoyable - but so was the Grüner Veltliner which was also available.
The food, we ordered a mixed platter, was enjoyable - and very Germanic in composition. Pork, sausages, schnitzel, ham, potatoes and sauerkraut all came on our large platter at an excellent value of 13EUR per person.
Overall, my learn'd colleague and I enjoyed our visit to the the Alter Bach-Hengle - but we would also have prefered to have visited somewhere with less of a "Leicester Square Experience."