20th April 2009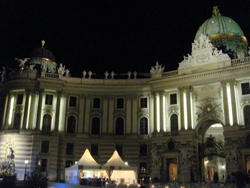 We thoroughly enjoyed our weekend in Vienna. Our visit to this former Imperial Capital and Melk Abbey was, of course, packed with history - both religous at the Abbey and the art of the years of Empire.
There's far more to Vienna than we managed this weekend including the Hofburg Palace, Schoenbrunn and the world famous Spanish Riding School. To cover all the Vienesse Imperial offerings would take far longer than the weekend we had.
Although somewhat of a "Leicester Square" experience, we did enjoy our visit to the Heuriger in Grinzing but next time we'll try another district for something a bit more "real."
Melk was hugely impressive. Not just in the scale of the building but also the work which had gone into the interior decoration. Both the Natural History and Art History Museums were impressive both in their collections and the buildings which house them. While the Catacombs of St Stephans Cathedral added more than a little macarbeness to the trip.
Overall, a great success of a trip.