New Zealand - Whataroa
Tweet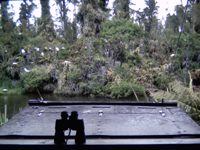 In 1860, 6.5 million acres of land were sold by Poulini chiefs to the Crown in exchange for 12,000 acres of reserves and a £300 cash settlement. 300 acres of land were set aside at Whataroa for the Maori.
In the 1880s, during the early days of the Gold Rush, Whataroa was were Tastae and his family lived and worked from the Whataroa River upto the snow line.
Whataroa is probably best known for it's White Heron (Kotuku) Sanctuary along the Waitangiroto river - where the birds come to nest from September to March - and it's introduced species of wild deer, thar and chamois.
When in Whataroa, do take the Stone Grill at the Pub.
---