Christchurch Cathedral
Tweet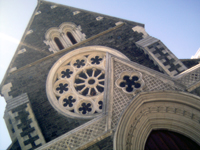 The foundation stone for Christchurch Cathedral was laid in 1864 and opened finally opened 23 years later in 1881.
Christchurch Cathedral was built to a design by English Gothic designer George Gilbert Scott but architect Benjamin Mountfort supervised the work and added his own influences to the design. The Cathedral was finally completed in 1904 at a total cost of 64,000 Pounds.
Ceiling timbers are made from Banks Peninsula totara and matai which helps give the church a New Zealand feel.
High altar and pulpit carvings depict the history of the Church from 1814 as well as the story of the Canterbury settlement.
The flags in the south transept are of The Personal Banner of Sir Heaton Rhodes, The Ensign of the Sea Cadet Corps, The Colours of the Girls' Nautical Training Corps and The Royal New Zealand Air Force.
The current organ of Christchurch Cathedral dates from 1927 and has 3938 pipes and 64 stops.
The Bishops seat (cathedra) is located in the sanctuary of the Cathedral.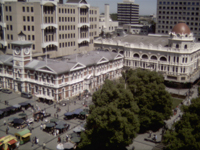 The spire of the Cathedral is 63 meters in height. For a small fee, you can climb the spire for marvellous 360degree views over Christchurch and Cathedral Square especially.
The Cathedral is the seat of the Bishop of Christchurch and is surrounded by Cathedral Square. It is a central location. A veritable hub of Christchurch - close to pretty much everywhere and central to all Christchurch.
---