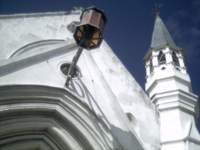 We spent this morning walking around the historic centre of Oamaru which boats and impressive array of limestone buildings, many of which were designed by the local architects Forrester and Lemon.
As we had no prior reservation we checked into the first centrally located hotel we found. Which turned out to the The Leviathan.
Having been very quickly and efficiently checked-in at the Leviathan, we stumbled about town for all of a few minutes before we settled in for lunch at The Craic at the Octagon. M'learn'd colleague took the penne with mushooms and bacon. I took the smoked salmon with fries and salad. I was beginning to lose faith in these "Irish Pub" things until I came to this one. There's a lesson for all those European rip-offs in this place.
This afternoon we took a tour of the Otago Peninsula with Elm Wildlife Tours which promised us "close encounters" with Royal Albatross, Yellow-eyed penguins, Sea-lions and the New Zealand Fur Seal.
As it was breeding season, we (understandably) weren't able to visit the Albatross colony itself, but the Royal Albatross could be seen flying accross the surface of the water. The Albatross has a huge wingspan in relation to the size of it's body and, consequently, is ideally built as a gliding bird. This is why it sticks close to the water as the waves generate an up-current in the air which the albatross is able to use to maintain its flight.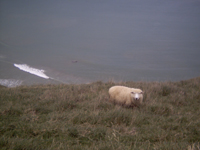 Once we had seen the Albatross, we were off to see the New Zealand Fur Seal, the Sea Lion and the Yellow Eyed Penquin. To do so, we drove further into the Otago Peninsula. Elm Wildlife Tours work together with a local farmer who allows exclusive access to parts of his land to Elm Wildlife Tours. The land is hilly and, as a result, this tour does need a decent level of fitness as we undertook 4 steep 15-minute walks - i.e. two times down and up again hills to and from an New Zealand Fur Seal colony and then down to the beach to see the Sea Lions and Yellow-Eyed Penguins.
The second hike to see the Sealions and Yellow-eyed penguins was (slightly-)less challenging than the first down to Fur Seal Colony -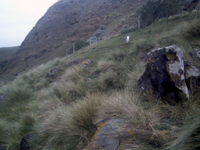 but much more exhilarating. I've never been so close to Sealions before and (Attenborough documentaries aside) had no idea how just large they were. One of the best aspects of this tour was the beech access which (apart from being privately-owned and exclusivly accessible through Elm) allowed fantastically close access to the Sealions without actually disturbing them. Such access is not something I've experienced before and found the whole experience fascinating. One can imagine how a young person (or even a not-young-person) can become enthralled by this kind of experience.
If all the tours offered by Elm Wildlife Tours are as enjoyable as this one, I have no hesitation in giving a recommendation. It's something I would like to try again and will certainly consider using Elm Wildlife Tours again for my next trip to see the Otago Wildlife.