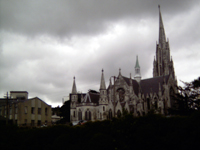 This morning, after checking out the Hotel Leviathan, we took a walk around Dunedin which was a pleasant enough city. Memorial services were taking place in the main Churches of the city to commerate Armistace Day and the fallen ANZAC troops from the 1914-1918 war.
During our walking tour, we visited the Anglican Cathedral and the Prebeyterian church (pictured) and the Dunedin Railway station. Dunedin, apparently, was built according to what the original residents thought Edinburgh would look like - even though none had actually been there.
The Otago and Southland regions region of New Zealand was, apparently, much settled by Scots and that's in evidence in Dunedin - where a statue of Robert Burns (pictured) takes pride of place in front the the Anglican Cathedral.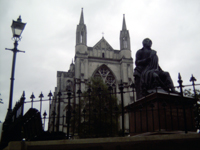 We left Dunedin this morning for Queenstown. We headed south and turned inland just after Milton. En route, we stopped off at The Packhouse (Coal Creek, RD1 Roxburgh, Central Otago) which I commend to others travelling this route for their damn fine Ice Cream which is made with real fruit right in front of you. And it's nice and creamy too.
As we approached Queenstown through the Central Otago area the number of wineries and vineyards visibly increased and many were clearly signed for visitors. We decided to take the turning off for Chard Farm where we were greated by the convivial Viv - a relative newcomer (but knowledgable) to Chard Farm. Viv talked us through the Chard Farm wines which included some very pleasant Sauvignon Blanc and Pinot Noir. I actually really enjoyed the wines from Chard Farm especially the Finla Mor and The Viper - both Pinot Noirs. This was surprising as I'm not really a white wine drinker and generally prefer heavier red grapes such as Syrah/Shiraz or Tempranillo. However, I remain unimpressed by Gewurztaminer - which to my mind remains an abberation of a grape worth of feeding to the pigs. The Finla Mor, in spite of it's youth, was simply marvelous. One of the best, if the best Pinot Noir, I've had in years with a smooth texture, wonderful bouquet and all rounded-off with a fantastic silky smooth finish. It left me wanting more so much, I bought some on the spot. Simply f**cking fantastic. Personally, I really enjoyed the the Viper Pinot Noir 2006 which is full of potential with a marvelous body and a fine bouquet and lovely finish. I agree with our host in that it does need some years in the cellar to reach maturity and the smoothness that was immeaditely apparent in the Finla Mor. Sadly, The Tiger was not available for tasting but I hope to get my hands on some soon on the basis of this performance. I have no hesitation in recommending Chard Farm wines, especially the two I mentioned, and a visit to their winery in order to sample their full range.