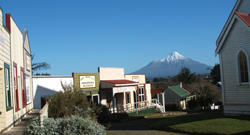 Pioneer Village was without doubt worth the $10 entry fee. The lovely lady on reception was eager to answer questions and helpfully pointed out all the best bits of the village, chatting good-naturedly and extolling the virtues of the Pioneer Village cafe while I gathered information and maps.
The map was needed. Set in 10 gorgeous acres on the outskirts of Stratford, Pioneer Village is set up like a town, streets, trains and shops included. Its an authentic walk backwards to the European settlers.
After declining an offer of an umbrella, Taranaki weather being what it is, I headed over across the ?road? to the first of the many buildings.I started at the Courthouse, formerlly on the main road of Stratford it was opened in 1903. Unfortunately, it isn?t set up as an authentic courthouse, instead being a place to show case Saw Competition trophies won by Merv Jensen and a Doll collection. Nice as they are, that was not quite what I was expecting.
Pembroke Road schools ?dogbox? was next. Designed to be a moveable structure, it is set up just like it would have been way back when, complete with posters proclaiming ?We would die for our King and Country?.? Rules for the teachers are posted on the walls of both the dog box and the Working School Room just down the road. Lucky male teachers got one evening a week off for courting purposes, two if they went to church regularly,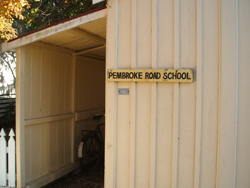 while the poor female teachers would be dismissed if they wore bright colours, dyed their hair or rode in carriages with men other than their father or brother. Career day must have been fun.
The oldest building on the site at this time is the Okato house, built on the Westside of the Mountain in 1853, it managed to survive the ?Maori wars?.? It is still original, complete with pit sawn and hand dressed weatherboards. Each room? is set up with authentic furniture and styled just as it would have been.
Throughout the Village, mannequins are set up like people in each place. As shop assistants on the main streets?Chemist, Fabric and Dress shop, Plumber and Tin smiths, even as a manager complete with period costume in the Bank.
Each house has a white picket fence and a little front garden.? Inside each home is something that makes it really memorable. The Kauri bath in The Original Homestead is the only one in existence and was built in 1897. I can?t picture using it but it is definitely something different.
The Church is still used for weddings etc and so is slightly more modern (with electrical fittings) that in no way detract from the ambience that comes from a church that I can see my great grandparents worshipping in.
One feature I found amazing was the Library. I spent ages there, reading the spines of the volumes of books and imagining living in a time when the slogan "Please read and pass it on" was emblazoned on a book because they were in such high demand. I suppose food and shelter took precedence over books though I cringe to picture it.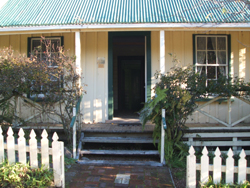 The Hospital is the original Stratford building but set up like a museum complete with interactive displays. Each room is set up like a room or ward from the original hospital. Of special note was the collection of bedpans through the ages that was set up in the Woman''s ward.? That was intriguing, to me anyway. Have peoples butts changed that much?
After I was finished exploring, wet and cold, I decide to see if the bravado about the caf? was true. It was. Hot chocolate in a warm cafe, with a fireplace, on a cold Taranaki day. I didn't want to leave. But the best part was that the tables in that cafe were old Singer sewing machine tables, wrought iron and wood.? Definitely good old kiwi ingenuity there.
I recommend a visit and will probably return myself. Maybe in the Summer.
Images reproduced with kind permission of Taranaki Pioneer Village.