Getting to Zürich
By rail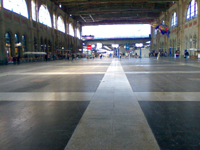 Many of Switzerland's intercity trains pass through Zürich and many with either originate or terminate there. International trains from France , Germany , Austria and Austria arrive in and depart from Zürich through the day. Regular trains also connect Zürich to Zürich International Airport and also Geneva International Airport making Zürich very highly accessible.
By air
Zürich International Airport is one of the major international airport in Switzerland. It serves as a hub for Swiss International Air Lines who operate international, intercontinental and domestic flights from the airport. Many other major international carriers also offer flights to Zürich . Coming from the Asian side, in my experience, the best carrier is Singapore Airlines but which airline you choose depends very much on where you're coming from.
From the airport regular trains leave to the Zürich citys Main Train Station (the Hauptbahnhof.) The journey into town takes around 15 minutes. You don't need to leave the airport building to get to the train - just follow the signs. There is a train ticket office next to the train platforms. The Swiss Federal Railways publish a time table of trains both leaving from and arriving at the airport.
Getting around Zürich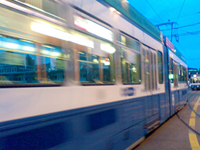 The Zürcher Verkhersverbund (ZVV) runs an extensive network of trams and buses around the city. Zürich main train station serves as a transportation hub and many of the citys trams, buses and local trains (the S-Bahn) will pass through or adjacent to the train station.
Most of the major attractions in Zürich are within walking distance of the train station and/or on a tram route.
The ZVV also publishes an online timetable in English which gives full point-to-point routing details for buses and trams throughout the Canton and includes train times where appropriate.
Ticketing
The Zürcher Verkhersverbund (ZVV) offers numerous tickets for both the city of Zürich and surrounding areas. The two best options for visitors are:
9 O'Clock Day Pass (*141 on the ticket machines) is valid for all ZVV zones including the S-Bahn trains, trams, buses and the boats to Rapperswil. It is only available after Nine O'Clock in the morning.
Zone 10 card is valid for either 1 hour or 24 hours. It is valid on all S-Bahn trains, trams and buses within Zone 10 which includes Zürich city itself.