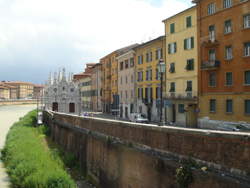 The Chiesa Santa Maria della Spina is impressivly located on the banks of the River Arno between the Solferino Bridge and Ponte di Mezzo. The Church is an impressive display of Pisan Gothic style architecture with the spires and statues that decorate it. The various statues depict saints and the Apostles. Rose window decortions include the Annunciation and Christ with the 12 Apostles.
The Church is not in it's original location - it was originally more easterly near "The New Bridge." The New Bridge collapsed in 1450 and was never rebuilt which caused the foundations of the church to weaken. After several attempts by the city authorities to prevent further damage, the Church was moved, piece by piece, to its present location between 1871 and 1884.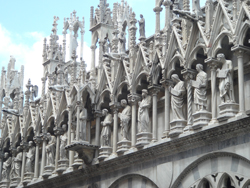 Originally named the Saint Mary's Church of the New Bridge the church has been known as "Of The Thorn" since 1338 when one of the thorns from Christs crown was taken there. The thorn now resides in the Church of St Chiara of the Hospital.
The chapel was probably founded in 1230 by Gualandi and the Pisan Senate. It was enlarged in 1325 and the pre-existing loggia was walled up by sculptors of the Pisan School.
The interior is laid out as a rectangle with the presbytrey set on a higher step. The roof of the presbytrey was painted in the 18th Century. Several further modifications were made until the time of the Medici - who added alters, niches and paintings. Madonna dell Latte by Nina Pisana and the panels and relief balustrade depicting the symbols of virtue by Andrea Guardi are now in the San Matteo Museum.