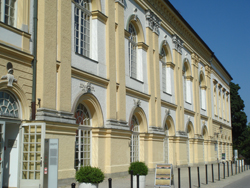 Today we headed into the Old Town (Altstadt) of Dachau for a quick look around. The Old Town is small and, unlike the Concentration Camp of yesterday, harks back to more propserous times. As it was a Sunday, we did not enter the parish Church as a service was on. We did, however, enter the rather picturesque Schloss Dachau.
After Dachau, we drove south to the very picturesque town of Füssen - arriving at around lunch-timeish. Having parked the car close to the historical centre of Füssen, we quickly happened upon Gasthof Woaze im Konigswinkel (Schrannenplatz 10, 87629 Fussen) where we perched ourselves in the sunshine which was pouring into the beer-garden at the back.
We headed up to the Hohes Schloss Füssen - a short walk from where we had lunch. As the name implies,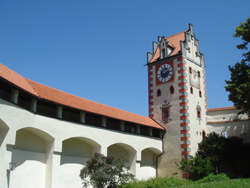 the Schloss stands prominantly above the town and commands excellent views over the old town. The Schloss is wonderfully painted and the effects, such as the effect bricks on the corners of the towers or the effect-oriel windows, add an excellent and enjoyable effect to the exterior. We paid a couple of Euros to enter the exhibition and see the Knights and the climb the Clock Tower - which was well worth the money. The views over the town as you ascend to the 6th floor are spectacular.
The Clock Tower, however, has only been a clock tower since 1864 when its predecessor, the Augsburger Tor, was pulled down and its clock moved up into the castle. Originally, the Clock Tower served as the Inner Gate Tower of the castle from its founding in 1291 / 1292. The two lower floors date from 1291 / 1292 while the 2nd, 3rd and 4th floors date from 1322 as does the current entrance which was added when the castle was finished by Bishop Fredric I. The upper two floors were added in 1500.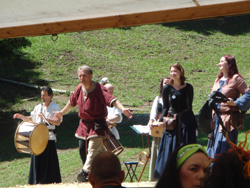 As we left the Schloss to head back into the Altstadt proper, we turned into a wooded area adjacent to the entrance to the castle where there appeared to be some form of festivities happening. Indeed, there was a medieval festival going on with various stage shows, demonstrations of medieval weaponary and various odds and sods for the kids to participate in. We loitered a little to soak up some of the local atmosphere and general conviviality over a most excellent fruit juice - which still had full chunks of sliced fruit in. Delicious!