14th July 2009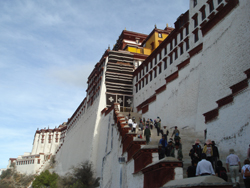 View of the Potala Palace from the stairs leading up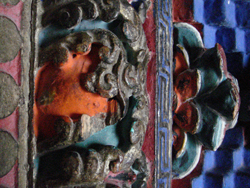 Carving detail at the entrance to the Potala Palace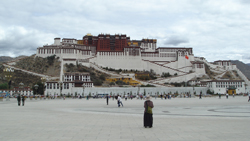 Panoramic view of the Potala Palace seen from the Square opposite
While in Lhasa, we visited the Potala Palace - one time seat of the Tibetan Government. It's long been a goal of mine to visit such an iconic building which I had seen many, many times in photographs and on the television.
We arrived at 08:30 in the morning for our 09:00 am entry. Climbing the 500 stairs to the entrance, where we would collect our tickets, was noticably more of a struggle than the equivalent at 3,000 meters above my usual altitude in Zürich.
Our tour took us through the Red and White Palaces as well as the private quarters of the Dalai Lama.
Visitor numbers are limited to 2,300 per day and 1 hour per visit.