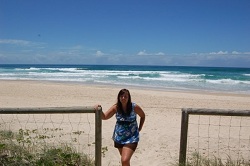 In my travels I�ve visited the Gold Coast of Australia on two different occasions and Surfers Paradise is one of my favourite places in Australia for three reasons:
Reason 1: The nightlife
Surfers Paradise is a young crowd kind of place because of its night life, copious amounts of shopping, amusement parks and all around active lifestyle it has an average age of 38, and� a population of 18,000 people. Home to 56+ bars and pubs when night falls this town is bumping and everything stays open late. Pizza shops, mini golf, theme park rides, bowling alleys along with all the bars.
Reason 2: You can hold Koalas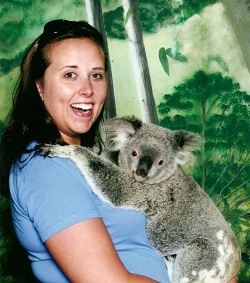 In parts of Australia, like New South Wales it is actually illegal to hold or touch a Koala, however it isn't in Queensland. 20 minutes down the road from the center of Surfers Paradise is the Curumbin Wildlife Sanctuary and aside from Kangaroos and wallabies that you can feed, dingoes and gynormous crocodiles that you can watch from afar they also have tons of Koalas and you can hold them here. There are strict rules for the Koalas, each one is only allowed to work a small amount of time a week. Definitely a great experience.
Reason 3: BEACHES!!!
Well technically it is all one long beach and at different points along it it has been assigned a different name depending how far you walk down the beach there is Surfers, Mermaid beach, Palm beach and more. People literally surf here from sunrise to sunset. You will see beginners, every day hobbyists to seasoned pros there are also a few places where you can take lessons and of course rent a board.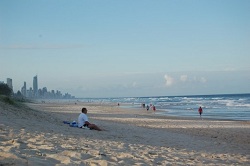 These beaches have powerful, powerful waves but are also safe for swimming as long as you stay between the flags. This is extremely important as they are the only areas with lifeguards and these areas are chosen specifically for being the safest areas with smaller waves, no surfers around and less chances of being caught in a rip tide. But they are also great for just laying out and getting a nice tan, but be sure to wear your sun tan lotion, the Australian sun is nothing to play around with. Surfers Paradise Beach was voted as one of the top beaches in Australia and judge as one of the cleanest.
Surfers is definitely a place to visit for at least a night or two if not longer. Aside from my reasons listed above there is also tons of shopping, there is a big Casino near by, a theme park, you can go kayaking, sky diving, Paragliding, fishing you name it they have it and it is definitely worth a stop. Perhaps fly into their airport and drive your way further north for the coming Eclipse?
Travel safe! ~Cailin