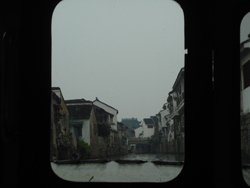 Suzhou is known as "The Venice of the East" for its network of canals including "The Grand Canal" which once linked Suzhou to Beijing in the north. Suzhou, along with Hangzhou, is reputed to be one of the most beautiful cities in China. And I'm not going to argue.
Arriving in Suzhou, we located the ships for a 90 minute cruise through the waters and Grand Canal. The waterways of Suzhou and the surrounding areas have been noted for many years and the Grand Canal which once connected Hangzhou with Beijing runs through Suzhou. Once known as "The Venice of the East," the Grand Canal is now a shadow of its former self but still forms an important part of the city of Suzhou with many houses alongside - especially the in village area - with people using the Grand Canal for drinking water, washing and even (amongst children) learning to swim.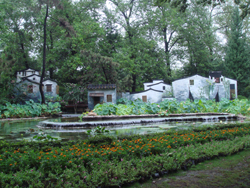 Suzhou is famous for its gardens and the Humble Administrators Gardens, as Suzhous largest at five hectares, is amongst the most notable. The five hectare gardens are a veritable array of bamboo, flowers, lillies, ponds and streams Charlie Dimmock would be envious of and previously functional buildings including offices. Don't miss the Bonsai Garden - which has an impressive collection of Bonsai plants, some hundreds of years old.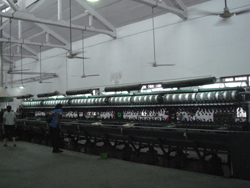 Silk Museum
The Suzhou Silk Museum amounts to what is, essentially, a glorified shopping centre with a silk museum attached to draw the tourists in. To be quite honest, if you've seen a silk museum elsewhere and either don't need silk or hate shopping I don't see the appeal. The only surprise was that I wasn't the first of the group to be out. Probably a thrilling shopping experience - if you're not me. Can't recommend.
Although the Silk Museum really wasn't my thing at all, Suzhou is certainly a fine place to spend a little bit of time. Perhaps on our next visit to China, we'll return for some more gardening?