12th July 2009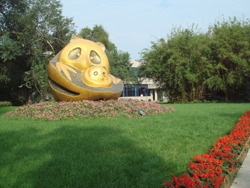 Panda and Cub model at the entrance to the Panda Research Centre
An early start this morning for the Chengdu Panda Research and Breeding Centre. Established in Chengdu to research into Panda breeding after many Pandas died of starvation in 1980's, the Research Centre has become an important research centre and popular destination for visitors to Chengdu.
The Research Centre is most famously home to the Giant Panda (sweeeeeeet!) but also to the Red Panda - so the best time to visit is the morning, preferably before 10am, as they goto sleep after feeding and when the temperature gets too much for them (over 24 degrees centigrade)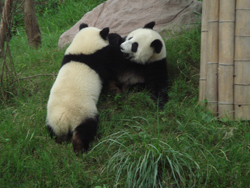 Two cubs fooling around
One our visit the adult pandas are visible, active and large but tend to be solitary animals. The star attractions were, without a shadow of a doubt, the cubs (sweeeeeeeeeeeeeeeeeeeeeeeeeeeeeet!) who, unsurprisingly, attracted a large following. Three
playful cub pandas
in particular proved to be a special draw for the visitors as they grapled with each other, their environs and climbed trees only to be pulled down by other cubs.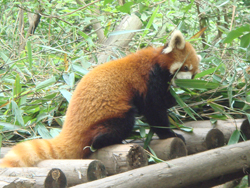 Red Panda feeding on foliage
The centre is also home to several Red Pandas who tend, judging from the fights we saw, tend to be an aggresive bunch who aren't afraid to rip each others tails off. Seriously, there's a few around who are, well, tailless.
There's also a small museum dedicated to the Pandas which didn't take us too long to get around.
The Pandas, especially the cubs, are cute. But do get there early to make the most of the centre.