En route back to Stratford from Rotorua we stopped off at the Helistar office, clearly marked as it was by a huge mounted helicopter at the entrance to the office.
Today the Longranger would take us for a thirty-minute trip would provide us with a clear view of a volcanic crest, fantastic views over Lake Taupo, a stop at thermal activity and fantastic aerial views of The Huka Falls. The front seat of the Longranger also provides a between-your-feet view of the ground.
Helistar provides several different tours ranging from 10 minutes to 2 hours with prices varying accordingly. Our pilot was friendly and informative and quick to put at ease those who hadn't been in a helicopter before.
At over 200NZD per person for the thirty minute trip, this is by no means a cheap trip but is well worth the money. The perfect way to appreciate the natural beauty of the Lake Taupo area and the Huka Falls.
Map
About Mark Sukhija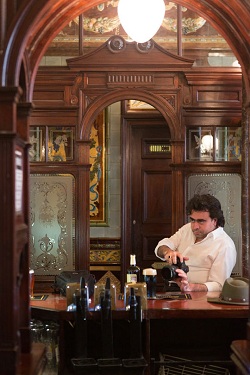 Mark Sukhija is a travel and wine blogger, photographer, tourism researcher, hat-touting, white-shirt-wearing, New Zealand fantatic and eclipse chaser. Aside from at least annual visits to New Zealand, Mark has seen eclipses in South Australia (2002), Libya (2006), China (2009) and Queensland (2012). After twelve years in Switzerland, Mark moved back to London in 2012. You can follow Mark on Twitter or Facebook