On our visit to Rotorua, we visited the Tamaki Maori Village - a well oiled machine displaying Maori culture and ways-of-life.
Arriving in our wakas (aka coaches), we were coached for this fine display where our elected "chiefs" were met with a challenge of peace by the resident Maori. Intimidating though these fine young gentlemen are, once the challenge of peace is accepted - our "chiefs" were welcomed by the chief of the village and they were led into the village itself. We followed our chiefs in to be treated to various (interactive) demonstrations of Maori games, a Haka, weapons and, of course, a Hangi meal.
Yes, it's the great conveyor belt of tourism. But it's good fun too.
Map
About Mark Sukhija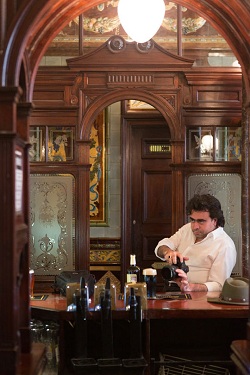 Mark Sukhija is a travel and wine blogger, photographer, tourism researcher, hat-touting, white-shirt-wearing, New Zealand fantatic and eclipse chaser. Aside from at least annual visits to New Zealand, Mark has seen eclipses in South Australia (2002), Libya (2006), China (2009) and Queensland (2012). After twelve years in Switzerland, Mark moved back to London in 2012. You can follow Mark on Twitter or Facebook