26th July 2009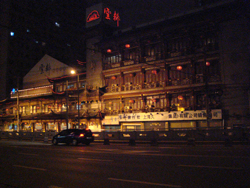 Building lit at night in Shanghai
We didn't spend too long in Shanghai - a few days. Although we could have made far better use of our time - especially our free day - we decided to take it easy on the last day, taking the time to meet some people instead. We'd spent quite a bit of time on the road, packing and unpacking so got to Shanghai a bit tired and haggard.
On our first evening in Shanghai we took a walk around town. Shanghai is an immense city with over 20 million people and, our feeling was, you don't get so much of a sense of a place underground. And the buses were packed. And God (or Buddha) only knows where they went anyhows. We walked in the direction of "The Peoples Park" from our hotel on Heng Feng Road - the traffic was chaotic and it took a little courage to navigate.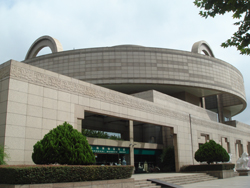 Exterior of the Shanghai Museum
We spent a short time at the Shanghai Museum which, with hindsight, probably wasn't enough. Established in 1952, the Shanghai Museum is one of the largest collections of Chinese art in the world. The Chinese painting, ceramics, Calligraphy, the "Ancient Chinese Jade" and Porcelain sections made up our visit - of which the Porcelain and Painting sections were the most enjoyable. Pocelain is, of course, a Chinese invention and several pieces date from the famous Ming dynasty.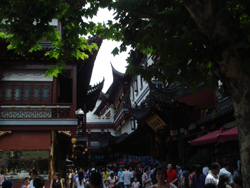 People and buildings at the Yuan Bazaar
The Bund was one thing I was looking forward to in China which was just a complete disappointment. They've closed the Western Bund, where all the colonial buildings are, while roadworks are completed in time for the 2010 expo. All we could do was head over the other side of the River to the Eastern Bund and take a look at a distance. Which, I'm sure, just isn't the same thing. Nonetheless, it was impressive to see the Bund from afar.
Markets and bazaars aren't really my type of thing but we went along anyway to see whats on offer. The bussling Old Town Market streets are lined with herbal medicines suppliers, tea shops, handicrafts. We surprisingly enjoyed our wander around the streets in spite of, or perhaps because of, the pepetual hawkers trying to sell us "authentic" Rolex watches and other such artefacts at surprisingly reasonable prices. Being Swiss based, we know our watches (sort of) and bargained our way to some tea from one of the more reputable outlets instead.