Leaving Queenstown for Whataroa
Tweet
13 November 2007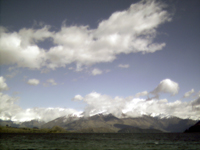 Today we left Queenstown for Whataroa where we would base ourselves for our visits to the Franz Josef Glacier and the White Heron Sanctuary.
We commenced this length drive by heading back towards Cromwell and then headed north whereupon we hit Lake Wanaka and took a pit-stop in Wanaka township itself. Lake Wanaka is, at 2,500 square kilomteres, New Zealand's fourth largest lake.
Lake Wanaka and Hawea, both on our journey and highway 6, contrast each other in their colour but both a utterly beautiful and marvelous to stroll along. Prominent peaks visible here include Mt Aspiring (3,033 meters), Mt Iron (740 meters), Treble Cone (2,058 meters), Mt Roy (1,578 meters) and Black Peak (2,289 meters).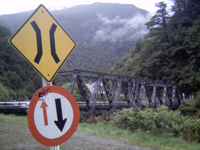 Continuing our journey, we continued through the Haast Pass towards the coast. The Haast Pass is named after the Canterbury geologist Julius von Haast who led a party over the Haast Pass/Tioripatea in 1863. Scot Charles Cameron was credited with being the first over the pass (arriving on the other side two days before Haast) thereby challenging Haast's claim to be the first European over the pass. Cameron Flat and Cameron mountain are named after Charles Cameron. The mountain was named by TN Broderick who found the inscribed powder flask of Cameron west of the pass in 1881.
As we took our time driving to Whataroa and were a bit knackered, we did actually miss the last tour of the day to the White Heron Sanctuary. We may well rejig our schedule to take it in.
---